Last Updated on September 20, 2022 by Heather Hart, ACSM EP, CSCS
It's a bit bonkers that we are 9.5 months into 2022, and this is the first race recap I've posted on this blog. Even crazier, the KFB Lynches River Adventure Race is only the fourth event I've competed in this year.
I never finished my Sandhills 5 miler report. But in all fairness, it was 5 miles of immediately post-covid running, so there really wasn't a lot to say other than "I survived".
I published our Palmetto Swamp Fox 12 Hour Adventure Race recap on the team AR blog…another winter project I was incredibly stoked about, but has since been neglected.
And The Country Mile 48 Hour ended somewhere around 2 hours in for me. It didn't feel worthy of a blog post. Plus if we're being honest, I was too upset with my body to dwell on that race (but here's the 2021 100 mile recap if you want to read that instead.)
If it's any consolation, I've missed writing these recaps almost as much as I've missed racing itself. And the good news is, my husband has about eleven billion races planned for us over the next 6 months. So, brace yourself for an onslaught of race recaps.
Prologue:
As those of you who have read my race recaps before already know: I've got to start with a backstory.
Last week, in a moment of ADHD fueled weakness, I headed to the YouTube for a distraction from everything I was supposed to be doing, but wasn't doing. Currently, my YouTube recommended feed is out of control, with more suggested videos of Ronnie Coleman than Kilian Jornet. I blame the endless videos I watched while trying to prep for the CSCS exam. I'm not sure how the 5-10-5 agility test translates to professional bodybuilders, but I don't write the algorithms.
A video called the "Brute Showdown" caught my eye, and so I pressed play. The premise is this: a weightlifter, powerlifter, bodybuilder and CrossFit athlete – all elite athletes at the top of their sport – go head to head in various types of strength, sport, and fitness competitions. It is a hilariously entertaining 4 video series (yeah, I sat there and watched them all), and a prime example of how "fitness" truly is multifaceted.
In the intro video, Jacob Heppner, a 5x CrossFit Games competitor, described CrossFit athletes as "trying to be mediocre at everything". It sounds hilarious, but he has a point: if you spend your time specializing in a single sport in order to be "good", you sacrifice the ability to "mediocre" at a lot of other things.
And that, my friends, is what brings us to the Lynches River Adventure Race: the fact that I'm not really good at anything, but I'm getting better at being mediocre at a lot of things.
There are at least a dozen reasons why, for the first time in nearly 15 years, running hasn't been my focus this year. That is a blog post for another day, but the takeaway is that I don't (currently) have the running legs I once had.
But I'm not mad about it. Because what I do have is more skills in other athletic areas that I've not had in the past.
In particular, this year I have both greater upper body and back strength than I've ever had before (even during my OCR days), and some mediocre kayak paddling skills. A quick peak at my COROS data tells me that I've spent 75 hours and 11 minutes this year running, and 27 hours and 45 minutes paddling. I'd wager the reality is that there's more of both not logged (Strava or it didn't happen is a lie) but the point is, I've been paddling a good bit.
So, when Geoff suggested we sign up for the KFB Lynches River Adventure Race – a 5K trail run + 5 mile kayak paddle (no, not a true Adventure Race, but it was a race, and it was adventurous, so we'll let it slide) – I figured what I currently lacked in running skills, I could hopefully make up for with my paddling.
Lynches River Adventure Race: My Race Recap
Saturday morning Geoff and I head to Lynches River County Park in Coward, South Carolina. It was about an 80 minute drive Northwest, to a quiet little town we had never visited before.
The KFB Lynches River Adventure race was hosted by Keep Florence Beautiful, and proceeds went to benefit KFB, Lynches River County Park, and would be used to help keep parts of Lynches River clear of garbage and debris. 2022 was the third running of this event.
When we arrived to the park, a number of volunteers helped point us in the correct direction for both packet pickup, and where to stage our boats. We choose a spot right at the waters edge, so we don't have to worry about stepping over other boats during the run to paddle transition.
For participants without their own boats, there was an option to rent a kayak from River Rat's, a nearby kayak excursion company. The perks? They set up the kayak for you. The disadvantage? You don't get to pick your launching point.
We're given our swag bags, complete with a t-shirt, sticker, whistle, package of wildflower seeds (I got Black Eyed Susans), shirt race bib, and boat race bib. We're instructed more than once to put the boat bib on the front, right hand side of the boat.
I, not realizing my boat is backwards, place it on the left, rear side of my kayak. Grateful I realized my error before the race started (and before I tried to get in my boat backwards).
Finally organized, we stand around and chat with friends and fellow competitors. I lament about how I hate the pre-short-fast-race-anxiety, while my husband grumbles at the GoPro (it's pretty much become his pre-race ritual).
5K Trail Run
At a few minutes before 9:00 am, we line up in the starting corral. The RD gives us a quick rundown of the race
I'm ready to get this part over with. Let me perfectly clear: I hate 5K's.
Even when I'm in great running shape – hell, probably even more so when I'm in great running shape – 5 kilometers is the race distance I fear and loathe the most.
You see, running 100 miles at once hurts, but in a much more gradual way. It's akin to the tale of boiling a frog in a pot of water: by the time you reach mile 90 and your feet are in the most excruciating pain you've ever experienced before, you've had 89 miles to ease into it.
5K racing pain is more like a sucker punch to the gut. It hits you without warning, takes your breath away, and makes you feel like you're going to vomit. Time seems to stand still, and you wonder what the hell you did to deserve this.
Oh that's right, you willingly signed up for it. Paid money even.
In total, 72 racers lined up for the event, between the individual (45), tandem (23), and relay teams (2 teams).
We count down from 10 – or maybe it was 5, I was anxious and not really paying attention – and the race starts. I don't have much of a plan, other than to go as hard as I can and get to my boat, where I can finally relax.
I'm grateful that a dozen or so men in front of me know where they are going, because I don't. I follow them as we run around a parking lot, and down a paved road. Geoff is with me, and we stay on this road for maybe a quarter of a mile, before ducking into the woods. I feel good, but make the mistake of looking down at my watch.
I see 6:52/mile and immediately realize how much I am going to regret going out this fast. I am NOT in 21 minute 5K running shape…or anywhere close to it. I slow down a bit, but the forward momentum is already rolling, I feel my pace continue to creep back up.
The trail is definitely runnable: single track but wide, littered roots here and there but nothing too technical. The trees are marked with bright orange blazes, so it's easy enough to stay on course.
It doesn't take long for the regret to settle in. We barely hit the 1 mile marker and I'm huffing and wheezing like I've never run a day in my life. My legs are heavy, and I'm wondering how much longer I'll be able to hold this pace. I can hear Geoff behind me, also huffing and wheezing, so at least I know I'm not alone.
Around 1.5 miles in, I hear Geoff not only fall back, but stop completely. I, too, stop and turn back to yell "are you OK?" to my husband. He replies back "I'm good hun, go on!". The truth is, I knew he was just fine. I stopped under the guise of making sure he was OK, but in reality, I needed a break.
It was at this point that another female passed me. But I was so deep into the suffer-fest of an untrained 5K that I couldn't muster up a single ounce of competitive spirit to even care.
The next 1.5 miles went a little something like this: run at a pace that feels semi-fast, but sustainable, until it was no longer sustainable, and I feared I might pass out, then walk. I took two more walk breaks, for a total of 3 walk breaks in a single 5K effort. There was a time in my life where I would be ashamed to tell you I had to walk three times in three miles.
But at age 40, I:
a) no longer care, and
b) figure if I haven't learned how to properly pace myself in a 5K over the last 15 years of running, it's probably never going to happen.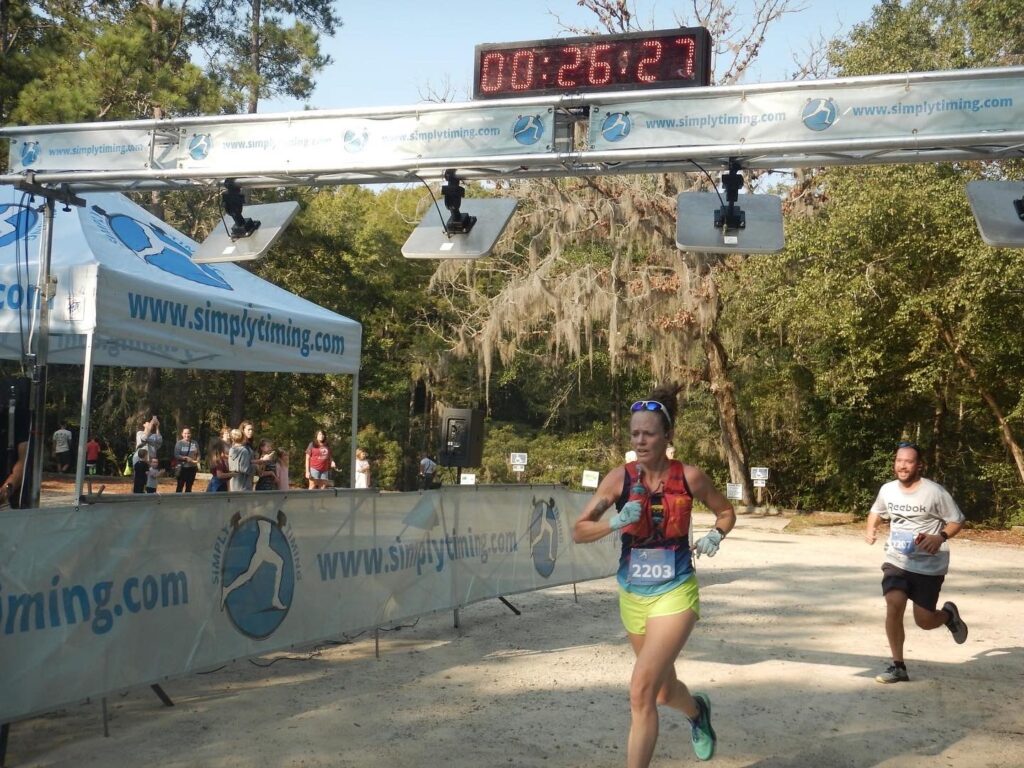 Transition
I cross the finish run finish line with a chip time of 26:24. Normally nothing to write home about, but this isn't a normal race. It's a run/paddle race, and my time to shine is just ahead.
Speaking of just ahead, I know that the woman who passed me can't be too far away. I run through the finishing chute, take a right into the field, and head down towards the kayaks. I see her still getting her boat ready, and suddenly the competitive side of me takes over.
I barrel straight down a steep hill towards my boat, while pulling my hydration vest off. In one fell swoop I toss it in the boat with my left hand, while grabbing my PFD with my right hand. In mere seconds it's on my body, zipped up, my paddle is in my hands, and I'm dragging my boat into the water.
A volunteer comes running over and shouts "do you want some help?" to which I shout back "no thank you!" already shin deep in water.
Now, I'm not great at many things in life, but one random skill I seem to have is quickly getting into a moving kayaking without tipping over. I even impressed a very experienced kayak instructor with this skill once, while I jumped into my kayak in knee deep ocean water with waves breaking around me. It was probably the ONLY thing I impressed him with that day, but it was something.
I figure one of these days, I'll mess up and land sideways in the water, but take my chances that today won't be that day. I'm in my boat in a split second, and the strong current is already taking me down stream. I hear someone yelling "GO TO THE LEFT OF THE TREE!" and I'm grateful that I decided to run the race already wearing my paddling gloves (big thanks to Jason for the idea).
5 Mile Kayak Paddle
I don't actually hit my COROS to transition from run to paddle until I'm a solid 4 or 5 strokes down the river. I honestly still have no idea how to use the multi-sport option on this watch, since technically they aren't allowed in true adventure races anyway. But if I had to guess, less than 30 seconds passed from the time I reached my boat to the time I was IN the boat.
And then I paddled like hell for about 2 minutes until my shoulders started to scream.
I look behind me and do not see the other female anywhere. I take a deep breath and remind myself that consistent, smooth paddling works a hell of a lot better in the long run (or long paddle, as it may be) than trying to muscle your way through it.
The water is moving fast in this narrow section of the river, and before I know it I've approached the one section we were warned about by the race director: where a submerged, downed tree was hovering just close enough to the surface of the water to get kayaks stuck.
As I approach the tree, a handful of male competitors ahead of me are already stuck and/or bottlenecking the area. A volunteer in a kayak is yelling "GET A RUNNING START, YOU'LL CLEAR IT!". Fully aware of the bumper-boats situation I'm about to encounter, I get a running start. And I do clear the tree…
…but I get caught on another one on the left side of the riverbank.
And not just a little stuck, but the kind of stuck where you have to rock back and forth aggressively while also reaching your hands in the water to try and push off of whatever you can get your hands on.
Eventually, I either get myself unstuck, or the guy behind me hit my boat hard enough with his boat to get me unstuck. It feels like 30 seconds or more, but it was probably closer to 5.
Shortly after, my husband catches up. I knew he wasn't far behind me, as I heard the race director announce his name over the loudspeaker as he crossed the run finish line after me, before I was even at my boat.
He not only catches up, but quickly passes me, all while shouting "you've got this, next female is WELL behind you!" I, of course, NEVER BELIEVE when people tell me such things. Mainly because a number of races I have won in the past were due to the fact that I managed to catch up to the unsuspecting competitor in front of me last minute. You can't let your guard down, even for a second.
My husband, of course, flies down the river passing people left and right, making this look like a piece of cake. He loves paddling, and dreams of owning a carbon fiber Epic kayak. Absolutely-unaffordable-on-our-salaries-price-tag aside, if he ever gets one, I can kiss the idea of EVER keeping up with him goodbye.
The river begins to open up just enough that there is a slight headwind. Not enough to make paddling difficult, but enough to slow down my boat to almost a complete stop when I take a short break from paddling to try and grab some GU Chomps out of my PFD pocket. But I do it anyway, because: snacks > speed.
Despite being a pretty avid paddler over the last 2 years, I still don't have much of a grasp on conceptualizing distance covered on water. Running? I could probably measure out a full mile by feel only. But on a river? Not a clue.
Pro tip: it's SIGNIFICANTLY easier to look at your watch while running than it is to look at your watch while actively paddling. So, I barely did.
I pass probably a half dozen other racers. At least 4 DNR boats pass me headed up river. It was awesome to see them out there supporting the event and making sure the racers stayed safe.
That said, when one of the DNR officers yelled "you're almost there", when according to my watch I still had about 2.5 miles to paddle, I didn't believe him, either.
(Note to self: you appear to have a lot of mistrust in the world of endurance racing. It probably all points back to the promised but not seen through Swamp Fox grilled cheese…)
At this point (yes, about halfway through the paddle section) I realize I am still wearing my Aftershokz bone conducting headphones from the run portion, and decide to press play. I cannot suffer through a 5K without music to drown out the sound of my wheezing, but I've never once before listened to music while kayaking. That's probably equal parts for safety reasons, and simply because I love the sound of nature.
But, we're not here to enjoy the sound of the birds, we're here to race.
The music is a wonderful distraction, and before I know it, I round a corner and see the finish line. There are two guys ahead of me, and I paddle like crazy to try and catch them. I fall short by 7 seconds (according to the official results).
Never the less, I had officially secured the win.
Being mediocre at many things rather than really good at one thing had paid off.
First place female, and 6th place overall. What's even more exciting is that when I finish, Geoff informs me that he took third place, and first & second place were two of our clients/friends.
We were given finishers medals, as well as our overall placement awards from the race director, which included Amazon gift cards for everyone. There were plenty of snacks and water at the finish line. And after a short wait, we (and our kayaks) were shuttled back to the park / start line where our cars were located.
On the drive home my husband said to me "I would have really enjoyed that race, even if I didn't podium." And I couldn't agree more. For a smaller event, it was perfectly organized and executed from start to finish. The trail we ran on was beautiful (from what I remembered, when I wasn't about to pass out). The river we paddled was gorgeous.
And the opportunity to show off my mediocre skills in MORE than one discipline? Priceless.
Thank you Keep Florence Beautiful for a wonderful, fun morning. We will be back next year!